Fantastic things have been happening within the cloud space for a while now – however, it wasn't until two weeks ago when Microsoft announced the opening of their two datacenters within Canada that Canadian businesses could finally harness the benefits of accelerating their business in the public cloud.
The public cloud is​ a significant growth tool for both public and private sector businesses and organizations within Canada. For public sector industries such as banks, government and non-profit organizations, the Canadian Datacenter offers an unprecedented solution for cost savings, efficiency, productivity and reliability. For the private sector, the public cloud offers an agile, flexible and always available solution for companies to switch to an operational "pay-as-you-go" model. The benefits of the Microsoft Cloud Datacenter extend past these two examples, here at Softlanding we've aggregated the top 10 things you need to know about the Canadian Cloud before you make the leap.​
Data residency in Canada
Canada, much like Russia and Germany, are under strict data residency and sovereignty laws to ensure the privacy and protection of their citizen's personal information. Now, with the availability of Canadian datacenters, highly regulated sectors such as healthcare, government, education and legal now have direct access to a myriad of business benefits that Microsoft Office 365 and Azure have to offer.
Enterprise-grade reliability
Data is the new currency of business functionality. With that, enterprises have to be sure that their data is fully backed-up, secure and accessible when needed. Microsoft's geo-redundant storage (GRS) is the main data replication agent that maintains six copies of your data. With GRS, data is replicated three times in both the Canada East and Central regions for complete business continuity. Enterprises can also boast the benefits the Canadian Cloud with a financially-backed SLA of 99.9% availability.
Secure, private, compliant, transparent
The Microsoft Cloud in Canada features the same industry-leading levels of security, privacy, control, compliance and transparency that define the Microsoft-trusted cloud globally. Microsoft has been building and managing datacenters for over 25 years and is recognized by Gartner as the only leader across six of their Magic Quadrants for enterprise cloud workloads in Azure.
Operational cost savings
Public clouds offer greater elasticity and keep infrastructure costs low for new projects. With private clouds or physical servers, unplanned projects can often pile up on scarce on-site resources. Now with the public cloud, companies can consume resources on an as needed basis. Data expansion is readily available at any time you need it with a simple "pay-as-you-go" model.
Integrates with your existing IT environment
The public cloud can handle any type of workload – there is no glass ceiling nor minimum spend. For businesses that wish to retain a hybrid approach to their business, the public cloud can accommodate the workloads you'd like to put in the cloud with the ability to increase/decrease it when needed.
Business Agility
With Microsoft now offering Office 365 and Azure hosted in Canada, Canadian companies can realize the benefits of switching from on-premises to the cloud. Office 365 is one of the main tools that enterprises are using to jumpstart their journey into the cloud. With access to Word, Excel, PowerPoint, SharePoint and other Microsoft tools through Office 365, users can access their digital workspace and data anywhere they go, on any device.
Building your skills and capabilities for Azure, Office 365 and/or CRM Online on a hyper-scale public cloud
Microsoft's slew of products within Office 365 and Azure are easily Integrated with everyday business functions. As the capabilities of Office 365 and Azure grow, the productivity of your organization will follow.
Seamless transfer of tenants hosted in US Microsoft datacenters to Canadian datacenters
If your business is already in the cloud within Microsoft's US datacenters, the choice to migrate your workloads to the Canadian cloud are readily available. Softlanding is able to assist the migration of your data back onto Canadian lands as a Cloud Accelerate Microsoft Partner.
A Cloud Partner you can trust – Softlanding
Softlanding is one of Microsoft's trusted cloud-solution providers with three gold cloud competencies in Cloud Platform, Cloud Productivity and Datacenter. We have been assisting industries of all sizes and focuses in migrating from on-premises to the cloud. Whether your data is currently within US Microsoft datacenters or you would like to jumpstart your move to the cloud, Softlanding offers 30-90 day trial tenants, hands-on workshops and demos to showcase the abilities of the cloud with Office 365 and Azure. Our specialties include Enterprise Mobility Suite, Azure Site Recovery, SharePoint Online with our intranet framework, Agile Intranet, and Skype for Business (Cloud PBX).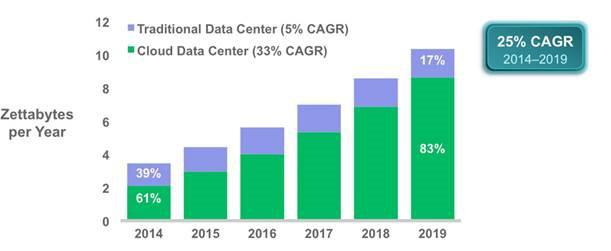 ​* Table taken from Cisco Global Cloud Index: Forecast and Methodology, 2014-2019 White Paper
​Endless possibilities within the cloud to improve your business
As companies begin to increase their adoption of the cloud, the cloud data footprint is expected to grow to 8.6 zettabytes by the end of 2019. With that, the trend to move to the cloud is ever-growing as companies are adopting and accommodating a BYOD workforce – changing the perception of "work" as a physical location. Now more than ever, the conversation of business decision-makers trends towards the goal of the cloud … but the question is, when?
With the Canadian Microsoft datacenters now available, the time to move to the cloud is now. The cloud opens endless possibilities for organizations looking to grow and advance into a more scalable approach to business. Softlanding is recognized by Microsoft as a Cloud Accelerate Partner and we would be more than happy to provide a trial tenant of Office 365 and Azure for your business to test out the possibilities of a mobile, online workforce and help you plan a strategy on how to start taking advantage of these new technologies.​
​​To receive a free 90-day Office 365/Azure trial tenant or book a complimentary Microsoft Customer Immersion Experience (CIE) in Vancouver for your team, please reach out to myself at blau@softlanding.ca. ​