Custom forms are one of the features that have been demanded by enterprises since the early days of SharePoint. Microsoft used to address this demand by leveraging InfoPath, and many organizations built their custom forms based on this technology.
Recently, Microsoft announced that they are going to improve PowerApps to become an additional custom forms application. The benefits of creating a custom form with PowerApps are obvious. PowerApps is a no-code solution to create Mobile Applications. Custom forms created in PowerApps use the same technology and will be responsive out-of-the-box.
But now there is a new kid in town: Microsoft Forms. The name is confusing, as Microsoft Forms is not another custom forms application, but an application that can be used to create surveys and questionnaires based on custom forms.
Microsoft Forms is a new addition to the Office 365 family of applications and can be accessed using this URL: https://forms.office.com
Let's have a look at what users can do with Microsoft Forms.
The editor in Microsoft Forms is a very basic editor. It allows to create a form showing a question and offers a list of answers.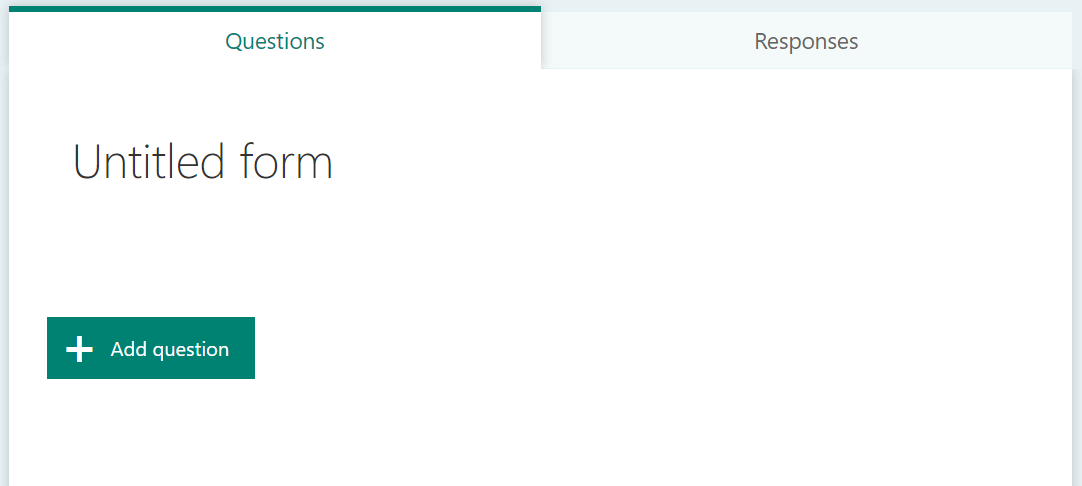 Microsoft Forms offers four different ways to create a question:

Choice: Create a question and offer pre-canned answers as list of choices
Text: Create a question and allow participants to fill in their answer
Rating: Create a question and allow participants to provide a rating (5 stars or number)
Date: Create a question and allow participants to provide a date (great for scheduling appointments)
Microsoft Forms also offers additional settings to configure who can fill out a survey and options for responses.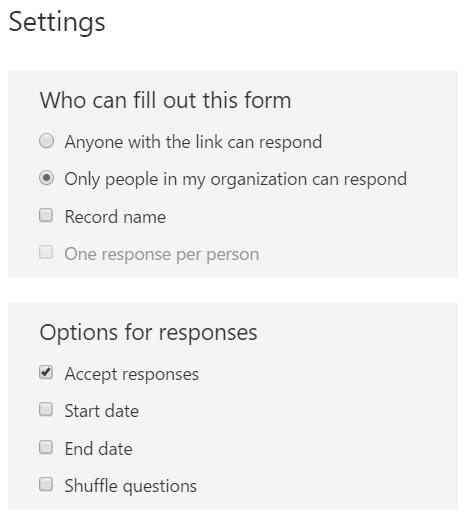 Let's create a little example to see how this works:
I have created a single question questionnaire which offers five pre-canned answers. This is what my question looks like within the editor: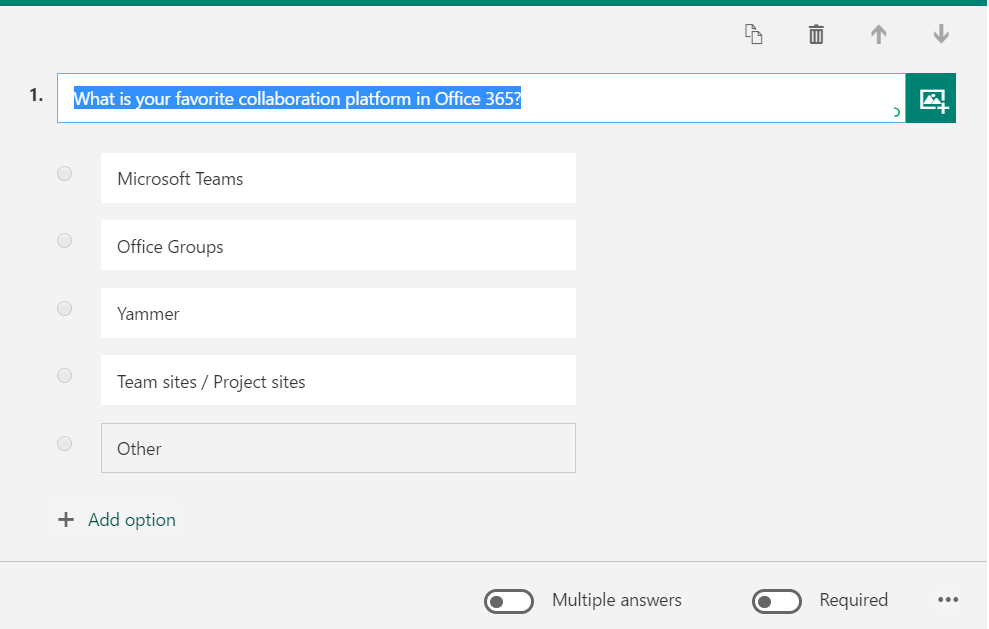 And this is the preview of my form as it gets published to participants: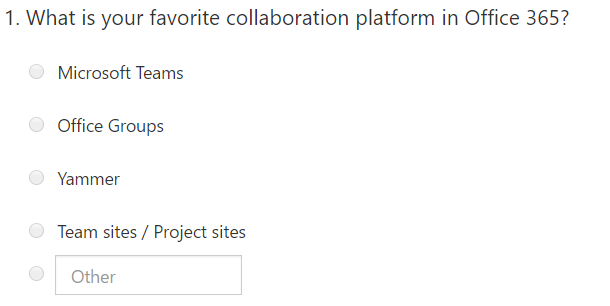 Now that I have created my little survey, I want to publish it within an organization. To do this, I simply need to click on the Share button which is located in the upper right corner of the Microsoft Forms editor. This is what the 'Share' dialogue looks like: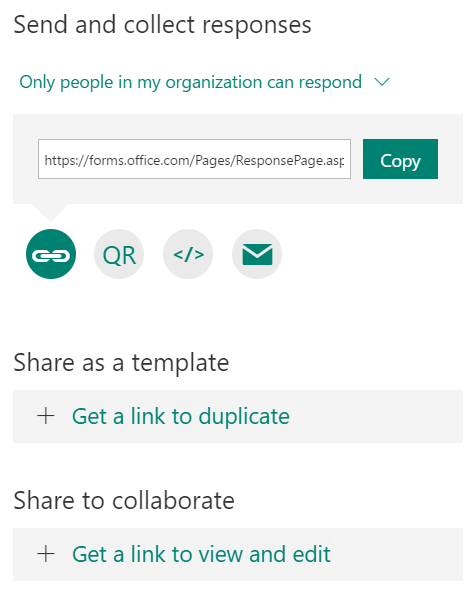 I can share my survey with coworkers in my organization only, or I can choose to send a link to my survey to people outside of my organization as well. This is an exciting option as it allows for creating truly anonymous surveys.
I decided to send a link to my survey to external users as well. This is what my survey looks like to the authenticated user: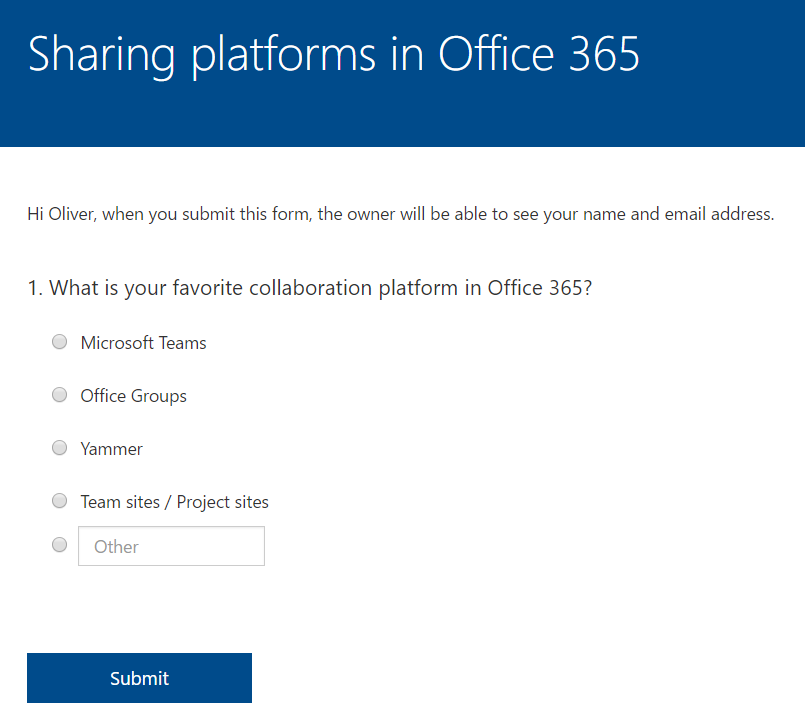 Microsoft Forms not only offers an editor to create new surveys, but it also allows you to evaluate the responses. To have a look at the responses, I log in to Microsoft Forms again, open my survey and click on 'Responses'. This is what the responses on my survey look like: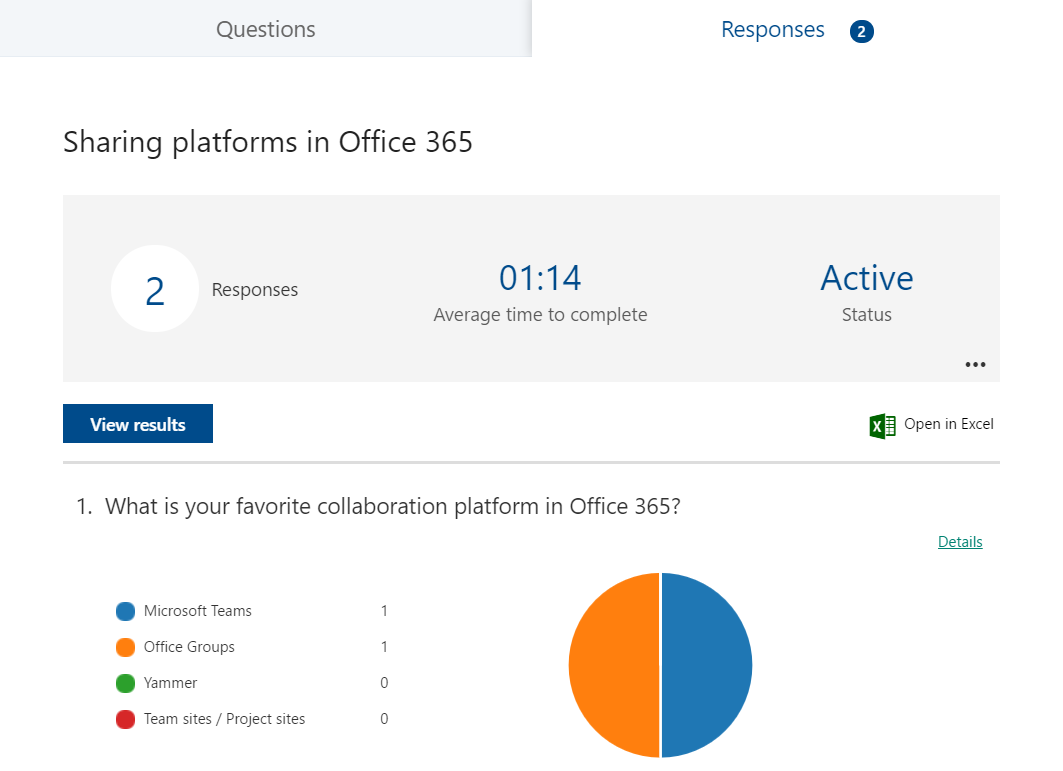 This overview shows, that I got two responses and that it takes about one minute to answer my survey.
To have a closer look at the results, I can click on the 'View results' button.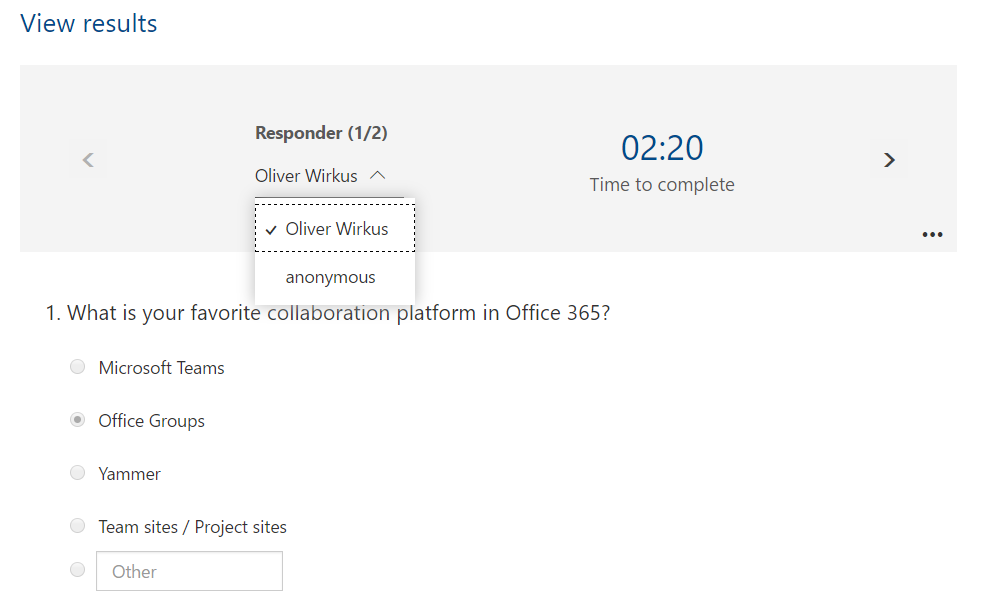 I answered my survey twice. I used my Office 365 login, and that's why I show up here with my name. You can also see, that an anonymous user answered my survey as well. I did that by opening the link to my survey in an 'in-private' browser instance.
In addition, you can have a look at the answers of each user by selecting a user in the Responder dropdown at the gray area at the top.
To continue with a more detailed evaluation of the responses, you can even export all responses to an Excel sheet.

Microsoft Forms is a new application, and it might not be available to all tenants yet. With Microsoft Forms, users can create surveys and questionnaires very easily, and now users can even create anonymous surveys which isn't possible with SharePoint. I think Microsoft Forms is a great addition to the Office 365 and I'm sure Microsoft will add additional features to Forms in the future.