Microsoft Teams versus Zoom, that is the question. As companies across the world are looking for a quick and easy way to keep their teams connected during the COVID-19 pandemic and beyond, there has been a huge surge in using video conferencing and collaboration tools to allow remote work.
Microsoft Teams and Zoom are the biggest players on the market. They both offer a robust solution to fuel the modern workplace and meet the demand for open communication and collaboration.
Both platforms have experienced rapid development over the past few years, gaining an impressive number of users and enriching their solution with new features to better meet their user's needs.
Looking into the different features and options to select the right solution might be overwhelming. That is why we've put together this article and a Microsoft Teams versus Zoom  comparison table to help you streamline your decision-making process.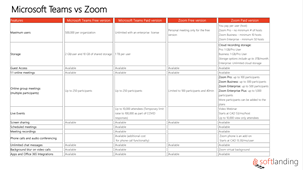 What is Microsoft Teams
Microsoft Teams is an all-in-one communication and collaboration platform that combines online meetings, video conferencing, chat, calls, and real-time file sharing with the Office 365 application stack bringing everyone together. Microsoft provides different versions of Teams that you can download whether you are working on a PC, laptop, tablet (android/iOS), or smartphone for a fully immersive experience.
Teams' Main Features
Meetings: You can host one-on-one and online and group meetings. Group meetings are capped to 250 participants.
Live Events: You can host live events with up to  10,000 attendees (temporary limit raised to 100,000 as part of COVID-19 responses);
Chat: Chatting in teams is a great means to cut down on email traffic with long threads and decision making within them. You also have the ability to search throughout chats and files together.
Files: Within the File tab, you can find and view files across OneNote, OneDrive, and within Teams which are stored on their own SharePoint sites
Bots: You have access to a myriad of bots with a variety of functionalities that will help you boost productivity.
Integrations: Teams integrate with over 140 business apps not to mention a tight integration with Office 365 productivity apps.
Features available at an additional cost
Calls and Audio conferencing: Calls and audio conferencing are available at an additional cost. If you have Office 365 E5, audio conferencing is included.
What is Zoom
Zoom is a cloud-based video communication and collaboration solution that allows users to virtually meet and interact with people by video or audio only or both. Users can also conduct live chats and record sessions.
Zoom's Main Features
Meetings: you can host unlimited one-on-one meetings and online group meetings up to 1,000 participants with the Enterprise Plus plan.
Chat: Teams and external participants can chat during meetings. You also have search functionality to find topics and conversations.
Integrations: Zoom also offers many add-ons to enhance your experience and you can use the Zoom technology as a bolt-on to your other apps such as Slack, Dropbox, Blackboard, Microsoft Outlook, etc.)
Features available at an additional cost
Zoom Rooms: Zoom Rooms allow users to start a meeting simply and seamlessly, book a meeting, and share content.
Phone: Zoom Phone is a single app for voice, video, voicemail, messaging, meetings, and conferencing.
Video Webinar: If you want to host a webinar online, the Zoom video webinar feature allows you to have up to 100 participants and up to 10,000 view-only attendees.
Microsoft Teams versus Zoom: Pricing
Both Microsoft and Zoom offer a free version of their platforms if you want to try them. Obviously, the free versions come with limited functionality.
However, it is important to note that Teams is bundled with Office 365 plans, unlike Zoom that doesn't come bundled with any other software. It is mainly a teleconferencing solution and cannot compare to Teams which is an all-in-one collaboration hub.
Microsoft 365 Business plans that include Teams range from CAD 6.40 to 25.60 per user per month. You also have additional plans for enterprises with Microsoft 365 F1, E3 and E5 plans.
Zoom starts at CAD 20 per host per month with their Pro plan and starts at CAD 27 for their Business and Enterprise plans.
Microsoft Teams versus Zoom: Security
On the topic of privacy and security there is evolving debate about which tool is best suited for sensitive content.  Recent updates from the companies themselves include:
Zoom: Eric Yuan, CEO posted a blog post on April 1 discussing enhancements to the Zoom platform and company policy following some critical press.
Microsoft: Jared Spataro, Corporate Vice President for Microsoft 365 wrote a blog post on April 6 to highlight Microsoft Teams privacy and security controls to protect identity, accounts, and data which will give you details on how Microsoft handles security within Office 365 and Teams.
If you want to learn more on deploying Microsoft Teams within your organization, contact us.