Technology and data are two critical resources in modern business. This reliance on business tech has made IT a key performance indicator in nearly every industry. But in order to deliver more business value, business tech has become overly sophisticated and dynamic. Consequently, managing digital systems is now a common pain point for many in-house IT teams. So, more and more tech-heavy organizations are turning to outsourced IT through managed services providers (MSPs).
According to a Clutch report, IT is one of the most commonly outsourced professional business services today. Canada alone spent $15 billion on tech outsourcing in 2021.
Managed IT is an invaluable segment of the IT industry. But what exactly does MSP mean, and what can IT outsourcing do for your business? Let's go over the basics of managed services and the benefits MSPs present to their clients.
What Is Managed Services?
"Managed services" is an umbrella term referring to the practice of delegating professional business tasks to a third-party contractor or service provider. It describes outsourcing any business task, including administration, accounting, marketing, HR management, supply chain management, customer support, etc. This article will focus on managed IT services, where a third-party service provider (MSP) takes over a company's IT responsibilities. Actually, this is what most people mean by managed services.
So, rather than managing your IT systems through an internal IT department, a managed services provider does that for you in a fully managed partnership. The MSP can also work alongside your in-house IT team in a co-managed arrangement, whereby both parties share the IT workload.
What Do Managed IT Services Providers Do?
What an MSP can do for your organization will depend on the MSP in question, the nature of your IT infrastructure, and the service-level agreement (SLA). The SLA is an MSP contract describing the agreed MSP responsibilities, service scope, and terms of service delivery. That said, here's what you can expect from a full-stack managed IT services provider:
Systems maintenance, servicing, and repair
Cloud-based data solutions (storage, backup, and disaster recovery)
Cybersecurity services (network monitoring, user authentication, data security, compliance, etc.)
Cloud systems management
IT planning and road mapping
On-demand break-fix services
Helpdesk IT support
Day-to-day IT management
Tech-related advisory and consultancy
Systems administration and IT governance
Support for special projects such as software/web development, deployment, and integration
Software and SaaS license servicing
User/employee training on IT safety and usage
Why Use a Managed Services Provider?
There's a popular saying in business, "Master your strengths, outsource your weaknesses." Outsourcing IT to an MSP frees you to focus on what you're good at, i.e. running the business, while letting IT experts handle the technical side of the enterprise. Doing so presents several benefits as opposed to handling IT in-house.
According to Deloitte's Global Outsourcing Survey 2020, the top reasons for general outsourcing are cost reduction, improved flexibility, faster speed to market, access to unique tools/processes/expertise, and increased business agility.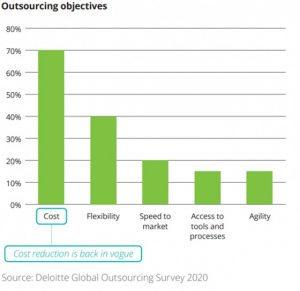 These benefits are much the same when it comes to IT outsourcing. Here's why you should consider partnering with a managed IT services provider:
Reduce IT Costs
Cost saving is one of the most attractive benefits of managed IT services. Business IT is not what you'd call "cheap." Flexera found that companies spend, on average, 8% of their revenue on IT. Depending on the company, that could mean millions of dollars every year. A large portion of this spend goes toward IT staffing and services, which is no surprise given that hiring an IT specialist in Canada will set you back between $52,000 and $95,000 a year in salaries alone.
Signing an MSP costs way less than working with an internal IT department. Generally, outsourcing all your IT tasks for a year can cost the equivalent of a single employee's annual salary. This is a huge bargain considering that with an MSP, you get a team of highly qualified professionals working around the clock.
What's more, you only pay for whatever managed services you need through an easily manageable monthly, quarterly, or annual subscription program. Although pricing structures vary widely between MSPs, each client is well-catered for through tiered or customizable service packages listed under various price brackets.
Bring in Fresh Expertise
Highly skilled IT experts are not only expensive but also hard to come by. Canada is currently facing an acute shortage of qualified IT talent, like most of the developed world. The Information and Communications Technology Council forecasts employment in the digital economy to reach $2.26 million by 2025, creating demand for an additional 250,000 jobs in the IT sector. Today, 80% of Canadian businesses need more workers with digital skills, while 68% are having difficulty finding the talent they need.
Working with an MSP is an easy, quick, and inexpensive way to get around the ever-worsening labour crisis. After signing an MSP, you instantly get a team of qualified IT experts who don't require time-consuming training or onboarding. Plus, you don't have to worry about employee turnover or other HR-related challenges.
Accelerate Digital Transformation
As mentioned earlier, IT prowess is a key performance indicator in today's business landscape. You simply can't afford to fall behind when it comes to technology adoption and implementation. But keeping track of tech innovations can be difficult given the high rate of emerging trends and the dynamic nature of digital technologies. This is where an MSP's guidance, industry experience, and specialized skills come in handy.
An MSP can speed up your company's digital transformation by helping you adopt and utilize the digital resources necessary for business growth. In essence, an MSP guides you in making the right decisions at the right time regarding pivotal technologies such as cloud and business intelligence systems.
Minimize IT Risks
IT setups are inherently risky. For one thing, digital assets are prime targets for cyberattacks. According to the Cyberthreat Defense Report, 85.7% of Canadian organizations experienced at least one successful cyberattack in 2021. A single cyberattack can severely devastate an organization through lost business, monetary costs, and reputation damage.
Another common IT risk is downtime. Unexpected glitches or accidents can shut down critical IT systems, bringing the entire enterprise to a halt. Like cyberattacks, downtime incidents have devastating consequences and are often associated with poor IT management, risk oversights, and avoidable human error.
Fortunately, working with an MSP can drastically lower the likelihood of destructive downtime and cyber incidents. MSPs offer top-notch digital protection through managed IT security that covers data safety and privacy, compliance management, and active intruder detection systems, among other provisions. And through proactive IT maintenance, an MSP can identify and resolve technical issues before they escalate to catastrophic problems.
Develop a Flexible IT Support Structure
Business IT is highly dynamic. So, it's important to have an equally flexible IT support structure that seamlessly scales with the changing technical demands and developments. Your internal IT team may be too rigid to quickly adjust as needed. Besides, scaling up an internal IT department often means hiring new employees or upskilling the existing staff, which might be prohibitively expensive, cumbersome, and time-consuming.
Only an MSP can afford you the IT support agility modern businesses require. For instance, adjusting an MSP's service scope can be as easy as moving from one subscription package to another, which you can do at any time and get immediate results.
What To Look for in a Managed Services Provider
The local IT services market is awash with hundreds, if not thousands, of MSPs. On top of that, MSPs come in all shapes and sizes. Some specialize in particular industries or technical areas, while others prefer to serve businesses of specific models or sizes. Also, each MSP has unique ways of managing IT and interacting with clients. In short, managed IT is not one-size-fits-all. And crucially, making the right MSP choice can mean all the difference between achieving your business goals and falling behind in digital performance.
So, what makes a good managed IT services provider? Well, here are the key qualities to consider when choosing an MSP for your organization:
Qualified expertise and experience in the area of interest
Fast response and easy communication via multiple channels
Third-party partnerships with worthwhile tech brands
24/7 technical support
Robust security framework built upon cybersecurity compliance standards
Business continuity and disaster recovery support
Compatible managed IT service model
Flexible SLA contract
Affordable, high-quality services with value-added perks
Trustworthiness, transparency, and excellent customer service
Strong brand reputation in the industry
Keep in mind that you're not just looking for IT support but also a business partner. So, be sure to choose an MSP that understands your business vision and is willing to walk the entire digital transformation journey with you in order to realize your business goals through safe and efficient IT utilization.
Why Choose Softlanding?
Softlanding is so much more than a managed IT provider. Our core values revolve around innovation, transparency, mutually beneficial partnerships, business empowerment, and a can-do attitude—exactly what you want in a strategic business partner. We are a team of 100+ members dedicated to driving IT performance and business success through technical support, managed security, IT consultancy, and the wide range of Microsoft solutions (Azure, Microsoft 365, Teams, Power Platform, etc.).
Experience-wise, we've been in the tech business for over two decades. We've racked up 5 (out of 6) Microsoft Solutions Designations and many other endowments, awards, and accolades. We've also worked (and continue to work) with numerous Canadian businesses across various industries.
If you need a managed IT provider, look no further than Softlanding. With Softlanding, you get all the IT outsourcing perks discussed here, plus much more. Our MSP's primary concerns are safety, efficiency, competence, and performance. So, you can rest assured knowing that your IT and organization are in good company.
But enough about us; we'd love to hear from you. Tell us about your IT pain points, and we'll discuss how our managed IT services can help.